Sydney Royal
We had a good day all the team was in the top 5 with Mazie 2nd in her class
and the speciality in the afternoon we manage 3x 2nd 1 4th and Cooper BOB neuter and BEST in Show neuter
a very long day we left home at 3 am and returned at 9 pm but a lovely day
Febuary 2018
Gunning 18 Feb
Aust Ch langtry Across The Tasman BOB
Langtry Christmas Edition Res CH Bitch / Junior in Grp first show back for this girl after a junior coat drop
Aust neut Ch Langtry Royal King reigns BOB
Jan 2018
Australia day Dogs NSW 26 Jan
Dudley BOB andAustralin Beed in Show
Cooper NIG and RUNIS
we have started of with a bang Lake george Sat and Sun
all my girls are out of coat we took 3 Dudley , Cooper and fleur
Dudley sat Dog Ch Sun BOB
Coooper BOB both days and RUBIG sunday
Fleur aus breed in breed both days.
December 2017
We had a wonderful year 2 champions Dudley and His Son Cooper
Dudley , Cooper and Mazie won multipul in group and in show he gained heaps
of Frills and both Cooper and Maize won best in Show in their Classes at the speciality shows.
we are having a break now till middle of jan give this heat a miss and let them all come back into coat.
We are looking forward to the new year
October 2017
we had more frills this Month again we have some stars in the team
Dogs Illawarra & South East regon Sat AM/PM
Cooper RUNIS / NIG
Dudley DCH both shows
Maize junior of Breed am/pm
Border Collie Club
Maize Puppy in Show
Cooper Dch and RUNIS
Southern Highlands Kennel 3 day
Cooper RUNIS / NIG/NIG
Maize puppy of breed
We had a litter of pups with daisy 4 live ones 2b 2g and lost 2 due to complecations and nearly lost Daisy but she spent 24 hr at the vets on a IV and antibotics and came home much better but was touch and go for a week or so. all good now pups great .
August / September
in Aug we did part of the western Circuit and had some lovely wins Duldley gained his Aus CH title with 2BOB and 3 dog Ch Maize picked up 3 RUBOB and a couple of puppy in grp and Cooper got 10 BOB 7 neuter in grp 3 runig and in september we did west Wyalong forbes and Harden well we manage 2 NIG and 1 RUNIS Maize 2 RUBOB and Dudley 2 CH dog we also had the Southern Dist BC sat sun Cooper BNIS both days and Maize BPIS bothe days and sat arvo Collie Club BNIS for Cooper. also sat Dudley was in open 10 dog in the line up all sup and grand dogs and he was placed 3rd so happy
We have 2 new Champions Dudley and Cooper and he only took 1mth to gaine his title.
we have had a fantastic 2 mths so many wins frillies and prizes. highlight
RUBIS Neuter Harden
BIS Puppy at the speciaty both sat and sun
June 2017
Bulli Show Dudley BOB Maize got her first Ch bitch RUBOB and Minor in Grp
Georga her sister in the USA BOB and a few other awards so we are so happy
May 2017
Wattle Cluster 9 shows well some wonderful wins.
Langtry Across The Tasman BOB RUBIG our first plus 2 ch
Langtry Christmas Edition 2 Minor in group 9 minor of breed 2 res bitch 6 mths old
Langtry Royal King Reigns RUBOB 2 res ch
Half way through the shows we had Dudley and Fleur Hip and Elbows done they have gone to be read but Karen Hepburg was stoked with them and advised looks like 0 all round
Feb 2017
Wollongong Am Show Langtry Across The Tasman Dog Challange Royal King Regins Dog Ch
Kangaroo Valley Langtry Royal King Regins Dog Ch
langtry Abby back to Abby res bitch RUBOB
Jan 2017
Lake Illawarra Dudley and Fleur both got Res CH
December 2016
The new year is round the corner . and I am hoping we will be able to get out there and get some serious shows done i have a few dogs that only need a few points to gain there Aust CH.
We had a hard year this year with mum being very ill but she is much better now .
I have all my local shows in the first few months lake George, Kangaroo Valley ,Milton and Robertson and canberra Royal and Sydney Royal
October 2016
What a great weekend Illawarra southern i took 4 dogs 2 g and 2 boys and could not be prouder.
Langtry Across the Tasman 25pt BOB inter in grp (Dudley )
Langtry Royal King reigns RUBOB Junior of Breed Cooper (Dudley Son)
Langtry Crystal diamond Bitch CH 15 Pt puppy in GRP
Langtry Abby back to Abby won her class
The team is doing very well and stoked with the wins ,Cooper has been shining through at west wylong he manage Dog Ch , 2 res and 3 RUBOB he is 14 mths and we could not be happier
21March 2016
Sydney royal is around again and we have had some great results , langtry royal king reigns ( Cooper) was the shining star this year 2nd in Sweep Stakes out of 110 pups and he was given a great review by the Nz judge he also was 3rd in breed and 1st in the working dog special on the same day. Langtry abby back to Abby was 4 in breed and 1st the working dog speciality. Langtry Crystal Diamond 4th in breed and 3rd in the speciality Langtry Across the Tasman was 5th out 10 in intermed class, Langtry Star Quality was 4 in her class of 10 and Langtry Across the Tasman was 6th out 15 in his class , we had a lovely Royal and some very nice youngster's coming through.
December 2015
A busy year we had 4 litters this year and normanly only have 2 so i have been run off my feet but
it has been a good year with some nice wins Dudley has won his age class at Canberra and sydney royals and also manage to get a few Red ch dog and some age in grooups... Cooper his first son has done well unbeaten in his class baby in group baby of breed and sweep steaks but the highlight of the year our IMP Clan Abby Nz Royal Tully first daughter 18mths has gained he Aust CH langtry River runs Wild so please for Jennifer who owners her and loves her .
July and August 2015
Boy it has been a bit wet and i have been busy we have 3 litters a week apart i am sleep deprived but we have some beautiful babies Sarah was first 3boys and 2 Girls time has flown 6week this week and vacc time Rosie was 10days later 3 G 4 boys all healthy then Poppy her first litter she had some hiccups at the start went off her food and not much milk but Rosie helped her out and they are going leaps and bounds and mum is a happy girl.
we still have a few pups available M and F .we have show homes domestic and we are also sending 2 to Japan a boy and Girl and they are coming over to collect them.
April 2015
Well we had a fantastic time at Sydney royal
langtry Across the tasman 1st puppy dog
Clan Abby Nz Royal Tully 5 th out of 16dogs
Langtry madam Hooch 6th out 18 aus bred
Langtry Star Quality placed
so the star of the day is Dudley he has now won puppy at Canberra and Sydney Royals
14Feb 2015
We had a great day first show back after the Dec-jan break as it is to hot and you young ones came pout to play.
Dudley res Ch and RUBOB well done
Daisy minor in group
they were all well good daisy was naughty in the ring but did settle.
18December 2014
Christmas is round the corner and I hope the new year is better than this one but is is looking better.Lillie Langtry our foundation bitch has just had her last littter 4Boys and 1 girl 09dec she has been the most beautiful mum and grmum she will now retire and do a couple of vet shows and just enjoy life and play she is 7 in april and very fit and healthy.
Sarah just had he first litter 4 girls and 2 boys 17dec all good and a great mum.
Well we finaly manage to get the concrete slab down with all that rain and the truck got bogged lol. i have put the fencing up and made the shade sails jjust need to do them over the christmas break.
and heaps to do 11 pups plus the adults washing is never ending kylies and vet beds OMG but all good and the days go fast and they are growing.
19 October 2014
we have had a happy and sad year, we lost Pink in september to pymetra a short time after a litter, she had 3 pupps our first line breed litter to Tull and WOW 1 girl and 2 boys we keeped a boy and he had his first show and he had not been off the property and he was a little darling, he won his class and went on to get baby of breed but also manage to get plenty of very nice comments. rosie had a litter 10 Aug 5 girls all stunning and very nicely marked very nice heads and ears. one girl will remain with us and 1 other will be shown in camberra.
langtry river runs wild (Portia) a tully baby received bitch CH today and Junior in group.
TJ has titled in agility, Willow has gone down to Albury to be shown ,
Audrey is off to QLD to be shown and to work on a goat farm. she will like this .
I hope to get my concret slab down soon i have all the colour bond fence and this will keep the kids clean and dry ready for shows.and a safe area for the girls when they are in season 15M by 7 meters in to 2 yards i hope to have it in by christmas. depends on the tradies lol
5 Sep 2014
I have not been showing much as i am still looking for full time work i have a casual job and this helps, we did well at the royal Poppy got 5th out of 30 int bitch and will man 3 in puppy ss.
we have had 2 litters Pink had 1f 2B sold 2 amd rosie has a litter on the ground 5G and they are from our IMP dog Clan Abby NZ Royal Tully (thank you Judy for this beautiful dog )
This litter is ready to go home on 11 oct 14
20 March 2014
Well the year is going so fast I am still looking for a full time job after being retrenched in June 2013 I have a couple of casual jobs but want something more stable.
Well good news the Langtry girls have just there Hip scores done and they are fantastic Rosie 0:1 poppy 1:1 Pink 1:1 and Sarah 2:1 so proud of the team.
Angus and Audrey are doing great 8 mths now Angus picked up his first dog ch at Milton and his second mum was there .Nationals are round the corner 1 week away, i have entered but due to a change in circumstances we might not be able to go. update to come.
04 September 2013.
I have just completed the western circuit had a great time and the team went very well, Sarah 10 mths managed BOB, RUBOB and a CH and clocked up some nice points also puppy in grp and 3 in 2 sweep stakes. Harry managed 8 out the 11 Neuter in group well done to him. Tully managed Junior of breed 10 out the 11 shows and 1 res dog but he need to grow into his body. Poppy had 3 res but has just gone up a class and not quite ready for it. Willow first show was the last weekend and beat her oppersition and was posit baby puppy nice win for the blue girl all in all we did well and first time away with the new truck I need to make a few changes but overall went very well.
I was retrenched in june and decided to have a break till after the circuit as the longest break I have had was 2 weeks so not time to look for a job.
29 September 2012
I want to thank Judy and Pieter Vos for the beautiful boy they have sent me he is just a delight and was so good after traveling for 2 days. We are looking forward to showing him.
Flo has got mum worked out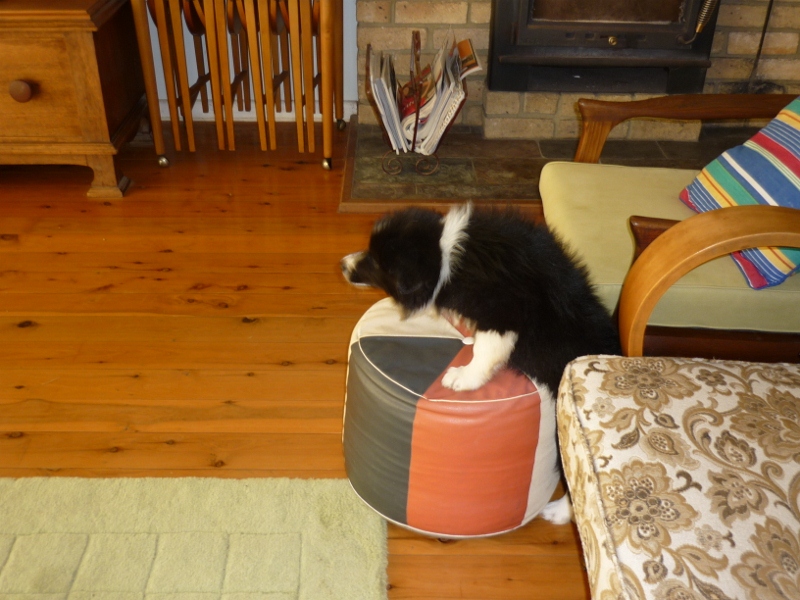 6 Feb 2011
3 Of our pups went to their new homes on Sat, and it seemed most had a restless night and they cried,
but due to the hot weather in the 40c and the hottest
night in 30 years it was going to be hard.
It does seem that Roxy had a nice afternoon
Roxy with Zac and Emilie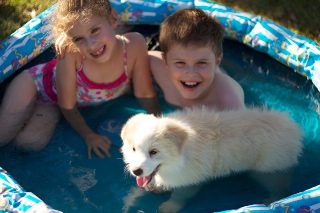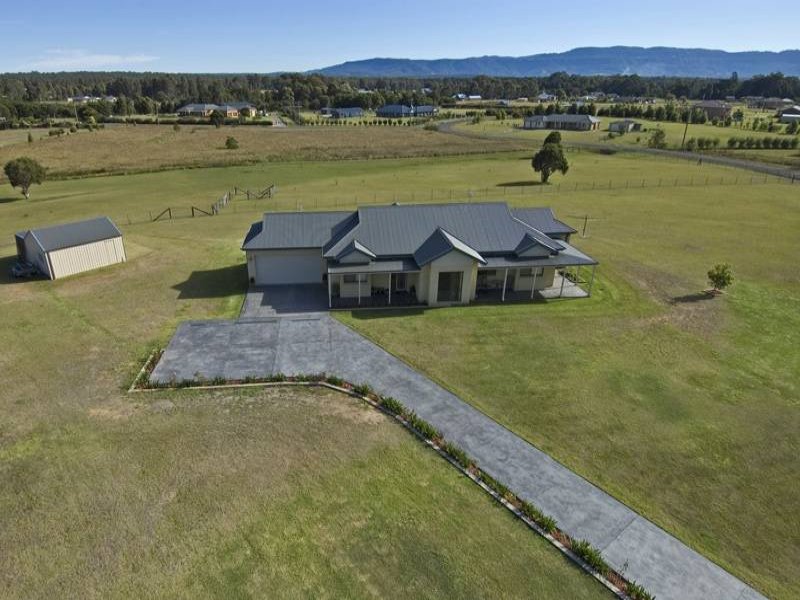 I have moved on 17 April
I showed Lilie at sydney and she was placed 4th
in Intermediate Bitch and we are very pleased.
We have bought a 5acre property at Nowra Hills
and this will give the dogs heaps of room to run
and play ,and I can set up a agility arena grow
my own veggies and semi retire . I will be able to
work from home as part of my work contract so
life is looking very beautiful.
I have Sydney Royal with Lillie on Tuesday
in her breed class and we are look forward to
this. Morgan is not competing at Sydney this
year due to the Move and I have not had time
to do much training.
My home phone will not have a forwarding
number as I am trying to get rid of all the
unwanted calls , and serveys that keep ringing
, but I will put my new number on the web as
soon as I have it and you are welcome to call
and say Hi.
I have just come back from Tasmania, I had to cut my trip short due to work commitments ,and was only able to do Launceston Royal and Tasmanian Kennel Club shows but we did get the final 1 point's , we had a fantastic time at the Tasmanian Kennel club Ch Bitch / RUBOB / Intermediate in Group and to top the day off Intermediate in Show this was Lillie's first time in Intermediate as she came of age 3 days prior to the show. I am very proud of her achievement in Tasmania and am looking forward to showing her in the new year, as well as starting agility with her .